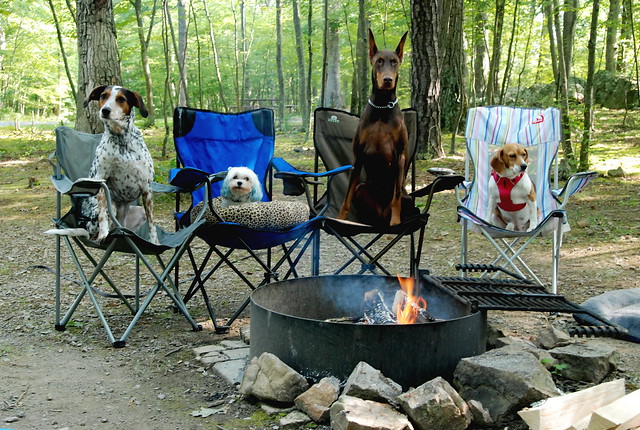 We went on our first camping trip five years ago. We had so much fun we've made time for camping trip every year since. Now that we have a handful of dog camping weekends under our belt, we want to share some of our essential with you so you can learn from our mistakes.
Dog Beds
Since we are talking about car camping here – our dogs can live a quite luxurious camping life for the w
eekend. The first time we went, I brought our fluffy giant dog bed with us from home. This didn't go so well for a couple of reasons. 1) Even though we took moderate precautions, the bed ended up getting wet just from being in close proximity to the ground, and because it happened to rain while we were there and damp dogs go on it. 2) It's a little to fluffy to feel safe close to a camp fire.
Our most recent and current favorite dog bed solution is our Kuranda Dog Bed. It is raised so it keeps them off the cold ground, doesn't absorb any moisture from the ground, and is easy to wipe off if the dogs get on it when they are muddy or have debris in their fur.
I usually also have a Primo Pad or two for laying by the campfire, but for colder camping trips I think a raised bed is the way to go. *Primo pads get quite hot in the sun as well, so make sure to leave yours in the shade if you plan on having a dog on it.
If you don't have anything suitable, bring your normal dog bed but also bring a blanket/towel/tarp to use as protection between the ground and the bed. If you have a double coated dog, totally disregard because your dog will probably love sleeping on the cold ground.
Tie Out
Most campsites have leash rules. At all the sites we have visited, dogs are required to be on leash at all times. It isn't super fun to hold your dog's leash all the time. I bring a tie out with me, and attach the dogs to trees when we are just hanging out. I want them to have enough slack to join the humans in the campsite but not enough to knock everything over. I've used long lines in the past for this purpose as well if you don't have a tie out.
Lighting
There are no lights in the woods. You probably already have flashlights on your list of camping gear, but I also would recommend some sort of dog lighting as well. This isn't essential, but its nice to be able to keep an eye on your dog after dark without having to shine your flashlight directly on them. Especially if you have a dark colored dog, and especially if you dog is on a tie out and not right next to you. There are a TON of dog lighting options. Little lights that hang like dog tags on the dogs collar, LED collar, LED harnesses, etc. My three have the Noxgear Lighthounds.
Layers
I don't have cold weather dogs, so this may or may not apply to your pups. Since our next trip will be in November – it will be cold, at least at night. I have coats/sweaters for the different temperatures we would encounter throughout the day. We may not need a sweater mid-day, but we have jammies for early morning and evening times and several layers for sleeping at night.
Last year, Bourbon was wearing a coat on a hike during a camping trip and accidentally fell into the river (typical). It was great to have other coat options when we got back to camp for her to wear while the wet one dried out.
Towels/Blankets
Also unnecessary for fluffier and larger dogs, but I keep a bunch of blankets to
throw over the dogs while we are hanging out and while we are sleeping. The video above was last year's sleeping arrangement. I had Bourbon and Rugby in an old sleeping bag on top of the Kuranda bed, with a couple of layers of clothing on. They were both very content and warm throughout the night. Towels aren't a bad idea either in case it rains and you need to wipe off the dogs before they get into the tent.
Activity Essentials
If there is more planned than just camping, come prepared for that too! If your dog hikes with a backpack, bring it! If you hike with a backpack to carry water and treats for your dog, bring it! If there are kayak, SUP, or canoe rentals, make sure you bring your dogs life jacket. There is also a lot of sitting around involved in camping. If your dog would be more content chewing a bone, or playing with a food toy make sure you grab that (just make sure you also put it in your car before you sleep so you don't attract critters). Pack some dog treats for trick training opportunities, etc.
Snuggle Chair
We haven't actually used this camping yet, but it is our newest addition to the camping gear. A chair both humans and all the dogs can sit on at once. Camping essential? No. But just in case you didn't know this was even a thing – it exists and Bourbon is going to love it.
Everything Else
Leash, Collar, Poop bags, Dog Bowl, Water Bowl, Dog Food (already in meal sized portions, or with a scoop!),  any medications your dog might need, some first aid items (if you're camping with us I have a very nice doggy first aid kit, so I've got you covered), camera, squeaky toy to get dogs to look at camera, location and directions to nearest vet in case of emergencies, and anything else your dog uses on a daily basis that you can't live without for a weekend.
Dog Friends
Camping is better with friends, and it is even better with dog friends. So bring dog friends with you as well!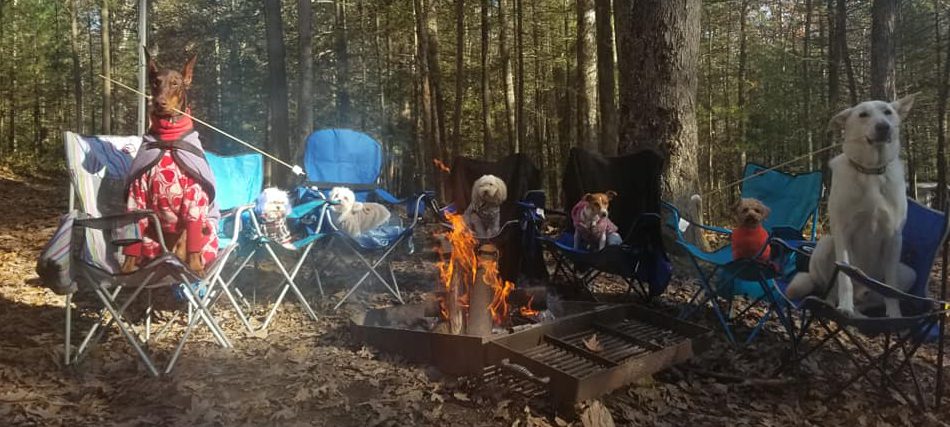 *If you love camping, or think you might love camping, and want to go with a bunch of amazing dog people make sure you are in the Leash Free Living Facebook group!